What is Yamato Transport?
One of the most popular courier services in Japan, Yamato Transport is similar to UPS or DHL. Like any courier service, Yamato Transport collects, ships, and delivers items of all sizes. Their black cat logo is ubiquitous and if you've ever been to Japan, you've probably seen their trucks and employees.
At most airports and hotels, Yamato Transport also offers a hands-free travel service called "Golf TA-Q-BIN" that allows travelers to send their golf gear to a specified destination, such as airports, hotels, residences, and even golf courses. Most of the time Yamato services will be offered at the concierge desk. If not, Yamato Transport can pick up your golf bag almost anywhere with an address through their pick-up service.
Though frequent domestic travelers and Japanese nationals often take advantage of this convenient service, it's not as widely known to foreign visitors and tourists.
Why Use Yamato Transport?
Once in Japan, golf enthusiasts will appreciate having their golf clubs delivered anywhere within the country! Traveling in major cities and train stations can be frustrating, not only due to congestion but with the scarcity of elevators and escalators.
Those using public transportation to travel around Japan will find it particularly cumbersome to lug around multiple pieces of luggage (golf bag, suitcase, backpack, etc.). For a small fee, you'll find at least part of your Japan travel woes resolved with Yamato Transport.
Whether it's your golf bag or suitcase, they'll deliver your belongings within a day or two. You can travel hassle-free and with the certainty that your belongings will arrive unscathed in a matter of days to its destination. Of course, once you're done with the golf, just send the equipment unnecessary for the remainder of your trip to the airport and pick it up at the Yamato Transport desk before your flight home!
How to Arrange for Delivery and Receipt of Item(s)
Choose round-trip or one way. Return trip is a specific one way option that refers to sending golf bag back from golf course to hotel, home, etc.
If you're planning to send your golf bag to a golf course and want it returned to the same address when you are finished, use the round trip option of delivery.
If you're planning on sending your golf bag to multiple places, use the one way option of delivery. For this option, you'll need to provide delivery information for each stop.
Get a delivery form. Forms are available at Yamato Transport sales offices, convenience stores, and hotel reception desks of hotels. Both one-way and round-trip delivery forms are available. For multiple destinations, you must complete a one-way delivery form for each destination.
Complete the delivery form and keep the receipt. You'll need the name and address of the destination, as well as the name of a person receiving the item (if you are the person receiving the item, write your name), the desired date of delivery, the number of clubs being sent, and a detailed description of the contents.
Collect your item(s) at the reception desk of the golf course or hotel. To claim your item(s), you may need to show the delivery form receipt at your destination.
For round-trip deliveries, simply drop off your item(s) at the same place you collected it.
How Much?
Fees for delivery will vary based on the locations of your hotel and golf course.
For example, the fee to send your golf bag from the Kanto region to the Kansai region it is about ¥2,000. This does not include the cost of bag covers.
Bag covers are required for shipping. If you do not own a bag cover, Yamato allows you to purchase a travel cover or a basic cover.
Covers can be purchased at Yamato Transport sales offices or delivered by drivers upon request.
Each golf bag is insured up to ¥300,000 (about $3,000).
Golf Travel Cover Set (¥4,980)
Caddy Bag Cover: 15cm x 54.5cm x 135cm (W x L x H)
Tote Bag: 10cm x 34cm x 25cm (W x L x H)
Basic Golf Cover (¥562)
Travel Bag Cover (¥205)
Internal dimensions: 29cm × 60cm × 61cm (W × L × H)
How Long Does Delivery Take?
Give about 2-3 days for your item(s) to arrive at any destination
Generally speaking however, the majority of shipments in Japan arrive the following day, seven days a week.
What's with the Black Cat Logo?
The logo is of a black mother cat carrying a black kitten by the nape. Ubiquitous in Japan, the logo symbolizes the care that Yamato Transport will uphold while your belongings are in their care, being delivered.
Sending Options
Home collection
Yamato Transport agencies
Yamato Transport sales offices
Delivery locker
Convenience store; some stores do not offer service, look for the Yamato Transport sign or flag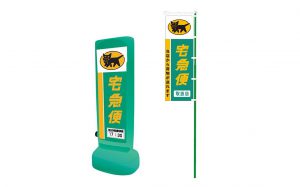 Other Options
Specify date of delivery
Specify time frame of delivery (return trip only)
Collection service
Temporary hold service (return trip only); when sending your golf bag back from golf course to airport, hotel, or Yamato store; they will hold your bag temporarily until you pick it up. The specific time they will hold your bag is not posted, ask staff for more information when sending your bag.
Reduced rates for multiple items
Cash on Delivery (return trip only)
Digital discount (¥50 discount per item); discount applies to customers who use fill out waybills online, using either a tablet at a Yamato Sales office or fill out waybill online at home. Discount only applies at Yamato Sales offices.
Write detailed descriptions of the parcel contents. If a detailed description is not written, Yamato Transport will not be able to identify the contents of the parcel. This may adversely affect delivery times or make it impossible to deliver the parcel.
Sample Delivery Forms
Regular delivery form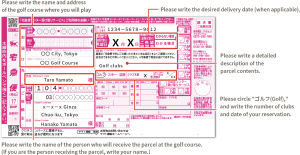 Round trip delivery form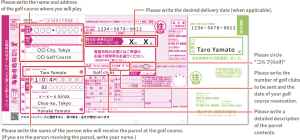 Cash on delivery delivery form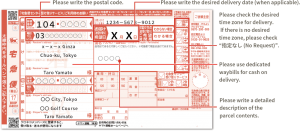 Temporary Custody Service delivery form
This form is used if you want someone besides yourself to pick up your bag for you.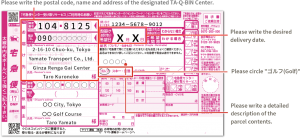 More Information
How to Pack and Send (click to view)
Packing Material (click to view)
Sending and Payment Method (click to view)